Robin Mizaur joins us to share her story of finding peace and happiness after a tragedy. She is a former United States Marine Corps Soldier, a certified Personal Trainer, Nutritional Consultant and a Holistic Life Coach specializing in Wellness. Robin is one of the founders of HappyNash.com a community dedicated to teach and deliver a daily dose of healthy lifestyle habits.
Season 2 – EP 32
Click here to download Robin's Green Juice Recipe
Read full blog on Tajci.net.
Click here for full transcript.
Peace Without Understanding
Robin brought a green drink to the retreat to share with participants and talked about healthy habits. When we filmed our episode, she came in with two jars of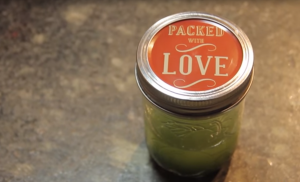 freshly squeezed green juice with 'Packed with Love" lids. "Afternoon refreshment," she said. "It will renew your energy and your cells will thank you."
Robin is a petite woman. The Marines had to custom-make her boots; in kids' sizing she wears a 2."They gave me one pair of boots and they said, they better last you your whole enlistment," she laughed.
My first thought was, sure, it's easy for her to switch from chocolate chip muffins to green juice smoothies! It takes tenacity and discipline just like what you need to complete Marine Corps training. <<< read more here
Connect with Robin
Web: HappyNash.com
FB: robin.mizaur
Twitter: HappyNashTN
Instagram: HAPPYNASHTN
Song
"I Pray"
Music and Lyrics by Tajci
Available on iTunes