We are talking to Rashad ThaPoet, an award-winning spoken word artist who is putting Nashville on the charts of hip-hop music. As an activist and truth teller Rashad inspires young people to find their voice, learn a tool of poetry to express it and build confidence that no matter what we have to say, each of us needs to be heard. Find out what was the turning point that inspired Rashad to build a purpose driven life with spoken word.
Rashad"thaPoet" Rayford is an activist, actor and an award winning Spoken Word Artist from Nashville, TN. He is a writer mentor at "Southern Word" a nonprofit that seeks to empower the community's youth through the written and spoken word. Rashad's work can be found at RashadThaPoet.com. The award winning music video for "Put Ya 2's Up" is available on YouTube.
Season 2 – EP 28
Read full blog on Huffington Post.
Click here for full transcript.
Tweet this: "Wake up, live your dreams make your life complete" – @RashadthaPoet on #wakingupinamerica http://bit.ly/1KHi6f8
How this One Spoken Word Artist is Giving a Voice to the Voiceless
"Put your twos up, keep them in the sky,
that's hand sign for peace, we all gotta try
make a better way 'cause just the other day
I found out Eric Garner man he passed away…"
I stand behind the cameras and watch as Rashad thaPoet performs his poem Put Ya 2s Up. He is deeply engaged, fully present and 'plugged in' to that undeniable life force that connects us all.
On Rashad's web site he calls it "spitting the truth," and I can see now what he means. It's a non-apologetic, confident and yet deeply vulnerable way of saying, "Hear me out. I've got something to say." Read more here…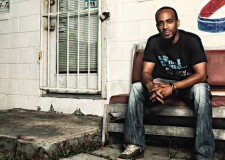 CONNECT WITH RASHAD
Web: RashadThaPoet.com
FB: RashadthaPoet
Twitter: @RashadthaPoet
Instagram: RashadthaPoet