Regina Mullins, a former prostitute whose life was restored by Magdalene Program at Thistle Farms in Nashville, talks about her turning point.
"Waking Up in America" Season 3 – EP 15
Full transcript available here.
CONNECT WITH REGINA AND THISTLE FARMS
Web: ThistleFarms.org
FB: ThistleFarms
Twitter:  @thistlefarms
Instagram: ThistleFarms
Experience Levi Hummon's song "Wildflower & Roses"
Levi Hummon is the son of Becca Stevens, founder of Thistle Farms. He wrote "Wildflower and Roses" – inspired and dedicated to the women of Thistle Farms.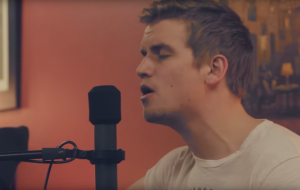 CONNECT WITH LEVI:
Web: Levihummon.com
FB: levihummonofficial
Twitter: levihummon
Instagram: levihummon/
HIGHLIGHTS:
2:37 – "a lot of us we don't know what love is."
5:20 – raised in church, began to 'hate church' but her mother voice always rang in her mind and heart
6:05 – promiscuous, pregnant at 16, Regina thought she had made God so mad that there was no way back to God.
8:26 – shame and guilt overcomes Regina
8:44 – Regina's answer to "Why did you keep your son?"
9:49 – what led Regina into addiction and abuse
11:52 – Jail was like deliverance – a chance to start over. And an answer to a prayer.
14:54 – scared to go back to the old lifestyle after prison… Regina receives an invitation.
16:42 – restoring trust through showing unconditional love
21:06 – One Word Answers
22:17 – email question from Ana from Germany
25:23 – "Wildflower & Roses" by Levi Hummon
THIS SHOW IS PARTIALLY FUNDED BY Patrons at Patreon.com/WakingUP
Filmed at "O" Gallery in Marathon Village, Nashville, TN
Music, TV show, blog, courses to help you make changes you want to see happen.