Daquan Summers (18), who faced a felony at the age of 12, now leads an anti-violence movement in Nashville, TN.
"Waking Up in America" Season 3 – EP 3
Download as podcast on iTunes
Blog: What This Teenage Leader of Positive Change Taught Me
Full transcript: Click here
—-
THIS SHOW IS PARTIALLY FUNDED BY Patrons at Patreon.com
Filmed at OGalleryart.com
——
Connect with Daquan Summers
FB: Daquan.summers.7
Instagram: _daquanimal
Twitter: @Daquansummers0
Help Daquan pay for college: GoFundMe Campaign
Daquan Summers Speaks Against Violence and For Change
In this episode Daquan Summers, who faced a felony at age 12, tells what happened that changed the direction of this life. This high school senior speaks at the City and School District events, leading an anti-violence movement and helping others to change their lives as well.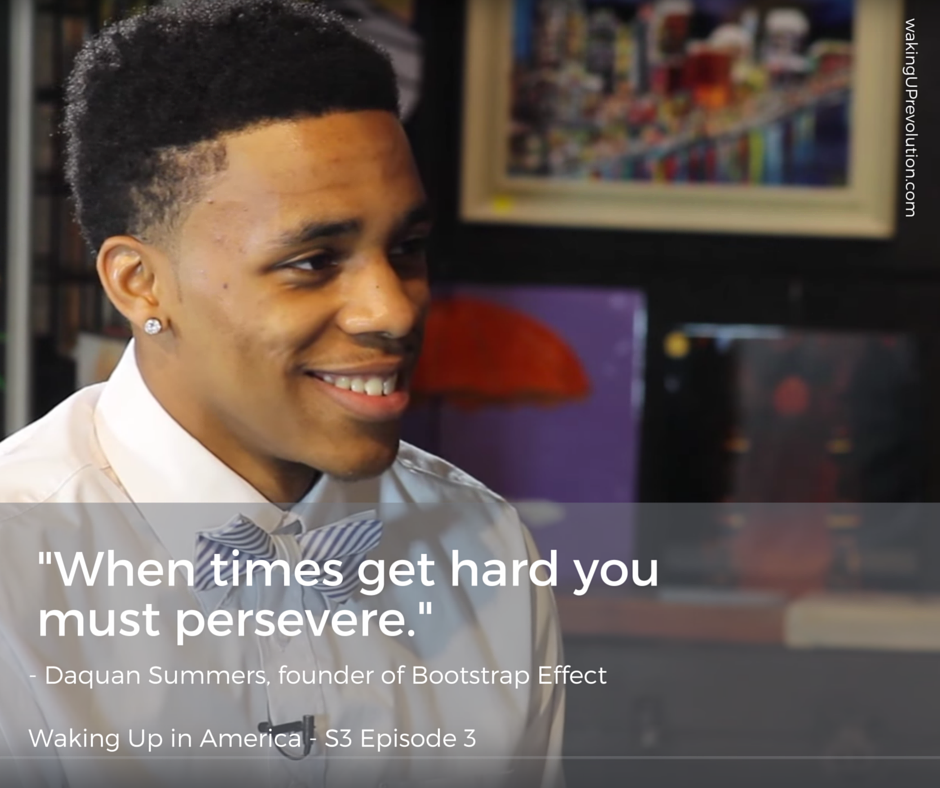 —-
Highlights From This Episode:
4:41 – "I knew I was getting in trouble when…"
5:28 – Why he left the gang
7:30 – growing up and seeing gangs, shooting…
8:24 – "I had to do better for myself despite what other people were going to say about me.
8:35 – "the biggest thing about change is that a lot of people are scared what other people are going to say about them once they change."
10:40 – "Stop doing the same old stuff that you see other people doing and expecting a different result…"
10:57 – "A lot of people make excuses…"
12:22 – "I'm not only tired of the situation for me, but I'm tired of the situation for the same people…"
13:19 – On Harriet Tubman
14:07 – "You can be inspiring too, whether you live in a mansion,
whether you live in the Projects."
14:38 – "Help and Need are similar because a lot of people see them as a weakness"
16:20 – What can we do better?
17:42 – Ms. Rosa asks a question about how to help a young man who is going in a wrong direction.
21:52 – One Word Answers
23:34 – Daquan performs his poem "No Excuses for Failure"
—-
Filmed at "O" Gallery in Marathon Village, Nashville, TN
Music, TV show, blog, courses to help you make changes you want to see happen.